Business
Are the apartments an infrastructure? Biden's suggestion is that better housing policies will improve access and affordability.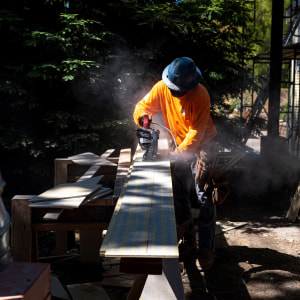 The White House's American Jobs Plan pushes the envelope on the definition of infrastructure, making the argument that where Americans live is a foundational component of the economy. The plan as proposed by the White House would funnel $213 billion into shoring up the nation's supply of housing, with a focus on affordable housing and more inclusive neighborhoods.
While the proposal's status in a divided Congress is far from certain, advocates and housing policy experts say it includes elements that could rein in the spiraling costs faced by homeowners and renters and foster greater housing accessibility in historically marginalized neighborhoods and communities.
"It's an important part of a neighborhood strategy of revitalization [and] also an important part of expanding homeowner access to homeowners of color," said Chris Herbert, managing director of the Joint Center for Housing Studies at Harvard University. For millions of Americans, he said, "the opportunity to live in homes that are good quality and in communities that are on an upward trajectory are limited."
Herbert said the plan stands out because rather than just focusing on the demand side — that is, people who need housing — the proposal approaches the problem from the supply side instead, aiming to build, modernize or retrofit a total of two million homes, with the dual goal of lowering housing prices and the climate impact of those homes.
"As long as we have a shortage of supply, housing prices are going to become less and less affordable," said David Dworkin, president and CEO of the National Housing Conference.
Of the housing-related components of the American Jobs Act, Dworkin said one of the most important — as well as the most likely to attract bipartisan support — is the Neighborhood Homes Investment Act, a $20 billion package of tax credits that aims to incentivize the construction or rehabilitation 500,000 homes for low- and moderate-income families.
The new construction portion of this initiative would make the nation's existing housing stock more affordable, said Matthew Murphy, executive director of the Furman Center For Real Estate & Urban Policy at New York University. Down payment assistance programs such as the joint proposal developed by the National Fair Housing Alliance and the Center for Responsible Lending, could help get first-time, first-generation buyers into homes.
"Increasing the supply, especially the supply of housing for low-income and moderate-income renter households — that stands out, given the context of infrastructure," Murphy said.
Another aspect of President Joe Biden's proposal would allocate $40 billion to the nation's public housing facilities, many of which were build decades ago and have fallen into serious disrepair.
"The momentum around public housing and the history around public housing is so complicated," Murphy said. "We have to be thinking about both the injection of capital… and also think about the modern mechanisms we can use to make it financially sustainable."
Many on the left say that $40 billion would meet only a fraction of the need. The Congressional Progressive Caucus issued a statement saying much more money is needed because so many public housing projects have suffered from neglect. Progressives say a "Green New Deal For Public Housing" would cost anywhere from $119 billion to $172 billion over the course of a decade.
Across all housing classes, an analysis by Moody's Analytics found that the nation's current supply is running roughly 100,00 units short annually, the largest supply-demand gap in five decades. One big contributor to that supply gap is zoning regulations that mandate large lot sizes or prohibit construction of multifamily housing. Making it easier for developers to build apartment buildings instead of single-family homes would add supply and lower the costs ultimately paid by homeowners or renters.