Business
Since the roads are in such a bad condition that even the ambulance cannot get through, this county expects money for the infrastructure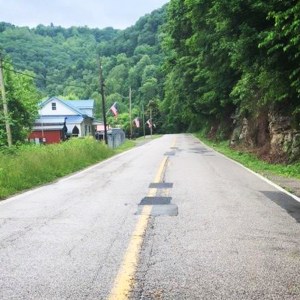 Roads are so bad in Clay County, West Virginia, that Stephanie Taylor has to take the two vehicles she used to make her mail deliveries to the repair shop every two to three months to have tires patched or realigned, brakes maintained and struts replaced.
The mail carrier contractor compared the roads she drives through the communities of Wallback, Maysel and Procious during her daily route to a coffee table with 15 coffee cups and four cereal bowls scattered on top of it.
"You have to dodge potholes to be hittin' bigger potholes. They're rough," Taylor, a lifelong Clay County resident, said.
But it's not just potholes. Last year, she had to alter her route for six months in order to dodge an area of Hansford Fork Road that eroded down the side of a hill "like a mudslide."
"It's just something that you have learned to live with all your life and you just do it," Taylor said. "If you can't get through one way, you know three other ways to get around it."
It's a common way of thinking for drivers in the area.
Beverly King, the county's recently retired ambulance service director, who served in the role for 17 years, said some roads that would otherwise serve as shortcuts during dispatches are not accessible.
"There's roads that you can go through to make a run shorter, but these roads are in such bad shape that you can't. So, that means we have to go around, the long way," she said.
Reducing ambulance speed to avoid potholes and bumps is an "everyday thing" — and lengthens response time.
Reducing ambulance speed to avoid potholes and bumps is an "everyday thing," King said. On some roads, the ambulance cannot drive faster than 20 miles per hour. Depending on the condition and the area of the county they're in, these factors can also lengthen patient response time by five to 10 minutes.
"When the roads are so bad that we can't get to [the patients] or if we have to take detours to get to them, that delays our care and that delays what we can do for them," she said.
In addition, the county's ambulance service has to pay an extra $10,000-15,000 a year in repair and maintenance costs for its four trucks, King said.
David W. Pierson Jr., co-owner of Pierson Lumber Company in Clay, said his business has to pay around $10,000 a year just to maintain its trucks. His own 20-mile back road ride to get to Interstate 79 for a grocery trip is half on rough roads.
"It's just aggravating. I reckon I've kind of got used to it, but I don't like it," he said.
Catering to complaints like these and working to get roads fixed has not been easy for Clay County.
When Clay County Commissioner Fran King relays the issues to the West Virginia Department of Transportation's Division of Highways, the agency frequently cites a lack of funding for road repairs.
"But then when funds come into the state, they're allocated for the bigger counties to put in byways and roundabouts," she said. "They forget about the people out here like us that need help, so that we can get our children educated, people can go to work."