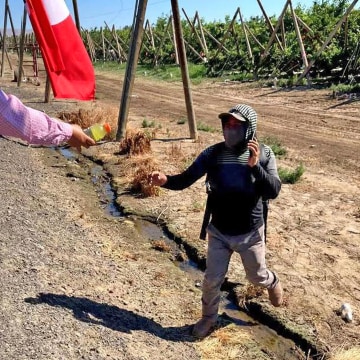 Organizers of the Farmers Union urge Washington state cherry farmers and the governor to protect workers who are vital to the ongoing effort to save r crops.
According to the Yakima Herald, the heat wave that hit West Washington put the region's cherry harvest at risk of sunburn and dehydration.
However, members of the United Farm Workers union said they were frustrated with the emphasis on cherry protection in the Yakima Valley.
The Statesman Journal in Salem, Ore. reported on Tuesday that a farmworker in St. Paul, Ore. died over the weekend in an area where temperatures rose above 104.
The newspaper said Oregon Occupational Safety and Health Administration "lists 'heat' as the primary incident prescription." Oregon OSHA is developing safety rules for employees who work outdoors in extreme heat, the newspaper reported.
Workers may become dehydrated and suffer heat exhaustion or heatstroke as the temperatures climb, said Elizabeth Strater, UFW's director of strategic campaigns.
The UFW has asked Washington Gov. Jay Inslee to issue emergency heat standards to ensure cherry-picking workers and other outdoor workers are protected. She said the union is pushing for the same standards used for military personnel while in training.
"Maybe there didn't use to be a need for urgent protection, but there is now," Strater told NBC News.
The farmworkers must have access to cold or tepid potable water, have shade relief and be given breaks that don't deduct from their wages. There should be medical help or equipment available for workers if they are overwhelmed by heat, Strater said. She said with weather intensifying each season, there is need for permanent new rules on the books as well.
Workers had been starting workdays at 5 a.m. or so and wrapping up earlier. In some orchards, they were starting late at night.
"All these schedule adjustments, it's really about fruit more than people," she said.
B.J. Thurlby, president of the Washington State Fruit Commission, a nonprofit marketer for fruit growers, said cherry growers over the weekend and this week have started harvesting at night, bringing lights to the orchard so work can start at 2 a.m. or 3 a.m. and finish early.
He said the fruit can't be picked when temperatures rise above 85 degrees because they bruise as bins fill up and cherries are piled on top of each other.