Economy
Employers added 390,000 jobs in May. Unemployment rate remains unchanged.
The data released Friday comes as the Federal Reserve and Biden administration take steps to fight inflation, even if it means slowing the overall economy.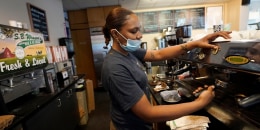 Employers added 390,000 jobs in May, which was ahead of the expected figure of 325,000 to 328,000 new payrolls, according to forecasts.
The unemployment rate remained unchanged at 3.6 percent.
President Joe Biden said Friday's jobs numbers show the U.S. is entering a strong period of sustained economic growth while acknowledging the pressure Americans are facing from inflation. Biden said the job market is the strongest it has been since shortly after World War II, with more Americans entering the labor force.
"There's no denying that high prices, particularly around gasoline and food, are a real problem for people. But there's every reason for the American people to feel confident that we'll meet these challenges," Biden said.
"Because of the enormous progress we've made on the economy, the American people can tackle inflation from a position of strength, still a problem, but we can tackle it from a position of strength."
"If food and gas prices are going to be elevated by Putin's price hike, one way we can make things a little better for families is by helping them save on other basic items their family needs on a monthly basis," Biden said.
The data comes as pressure has grown on Biden Administration to fight inflation, even if that means slowing down the broader economy. The Federal Reserve bank has already taken steps to tighten the purse strings, in part by raising interest rates in March and in May.
While the price of food and gas remain closely tied to global markets, the Fed has looked to cool off a red-hot labor market that has caused wages to surge — and thus sending overall prices higher — while creating worker shortages.
This week, the Fed got some signs that its two recent rate hikes may already be paying off. The rate of workers quitting leisure and hospitality jobs fell to its lowest level since February 2021, something that is already translating to slower wage growth in that sector, according to Capital Economics research group.
Still, the job market remains heavily tilted toward workers. Another survey out this week showed 51 percent of American small businesses had roles they couldn't fill last month — a record, according to data from the National Federation of Independent Business. As a result, there is little to suggest the Fed will pull back on its plan to implement two more rate hikes of 0.5 percent this summer, Capital Economics' Senior U.S. Economist Michael Pearce wrote in a note to clients before Friday's jobs numbers.
"We suspect it will take at least a few months before we start to see 'clear and convincing' signs of a moderation in wage and therefore price pressures that would prompt the Fed to switch back to [0.25 percent] rate hikes," he said.