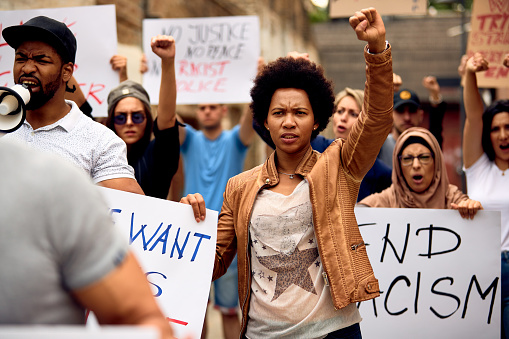 This year, Black History Month follows a summer of protests around the country centered on racism and police brutality sparked by the deaths of George Floyd and Breonna Taylor, and the continued mistreatment and deathsof Black Americans at the hands of law enforcement. Many are looking for ways to demand justice while staying at home due to the coronavirus pandemic.
January saw renewed calls for Americans to take action and educate themselves after civil rights leaders and activists lamented a double standard between the police response to the mostly-white Trump supporters' Capitol riot and Black Lives Matter protests. 
So, if you're looking to get involved outside of organizing in persondue to the pandemic, we've rounded up a list of ways you can take action while staying safe from home, including ways to support Black organizations as well as addressing racism in general.
1. Justice for George Floyd on change.org
This petition began as a way to demand the officers involved were charged. Now that they've been charged, it aims to demand a "fair judicial process that results in justice and in the conviction of George Floyd's murderers."
2. Demand Justice for Elijah McClain on act.colorofchange.org
This petition calls for the justice of McClain, a 23-year-old Black man who died in police custody in 2019 whose story resurfaced in 2020. You can also sign by texting "Elijah" to 55156.
3. Justice for Breonna Taylor on change.org
This petition calls for the justice of Taylor, an unarmed Black woman who died in her apartment after being shot at least eight times by Louisville, Kentucky, Metro Police in March.
4. #DefundThePolice petition by Black Lives Matter
This petition aims to "demand acknowledgment and accountability for the devaluation and dehumanization of Black life at the hands of the police."
5. Jacob Blake petition on change.org
This petition aims to seek justice and demand that the officers responsible for shooting Blake, a 29-year-old Black man, on Aug. 23, 2020 are charged. In January 2021, the officers have returned to working full duty.
6. Equal Justice Initiative 
This non-profit organization aims to "end mass incarceration, excessive punishment, and racial inequality." Donations help support their cause, which includes challenging racial and economic injustices and protecting "basic human rights for the most vulnerable people in American society."
7. Kids of Colour
This platform helps young people of color to explore race, identity and culture as well as challenge everyday and institutionalized racism. Donations go toward "event/workshop costs; resources; project activity and ensuring young people who support can be paid or rewarded for their time," according to its fundraising page.
8. NourishNYC
This initiative provides direct support to New York City-based activists, including supplies for protesters and bail assistance.
9. Racial Justice Network
This is a "multi-racial, grassroots organization, committed to fighting for racial justice and building bridges across racial, social, and economic lines," according to its website. Donations go toward community support, events and galas focused on reparations, crisis response efforts and more.
10. Communities United Against Police Brutality
This Twin Cities-based organization accepts donations via mail or PayPal for "office costs, cop watch equipment, court filing fees and other expenses."
11. Unicorn Riot
This is a non-profit media organization dedicated to "exposing root causes of dynamic social and environmental issues through amplifying stories and exploring sustainable alternatives in today's globalized world," according to its website.
12. The Minnesota Healing Justice Network
This network provides a "supportive professional community and mutual aid network for wellness and healing justice practitioners who also identify as indigenous, Black or people of color," according to its website. They accept donations.
13. The Marshall Project
This is a non-profit journalism organization that focuses on criminal justice. Donations help support the group's goal to "establish facts, expose failures and examine solutions for a criminal justice system in crisis."
14. Your local bond/bail fund
Many organizations in states and cities across the country accept donations that go to paying bail/bond and are also fighting to abolish the money bail system and pretrial detention. The National Bail Fund Network has a directory of community bail funds, and as protests continue in Atlanta, Miami, New York and other major cities, the Georgia Immigration Bond Fund, the LGBTQ Freedom Fund and the Emergency Release Fund are requesting donations.
15. Black Visions Collective
This Minnesota-based group focuses on "healing and transformative justice principles" and leads "targeted collaborative local campaigns" in the state.
16. Spiral Collective
This QTPOC-centered reproductive justice collective helps in "providing free, compassionate, non-judgmental support to the full-spectrum of people across all pregnancy outcomes & reproductive experiences."
17. Northstar Health Collective
This organization works "in alliance with mainstream and anti-authoritarian organizations to create safe and healthy events." You can support through written/mailed checks or through PayPal.
18. Reclaim the Block
This coalition seeks to "demand that Minneapolis divest from policing and invest in long-term alternatives," according to its Twitter bio. Donations help support the coalition's work to "make sure that our communities have the resources they need to thrive."
19. Black Table Arts
This organization helps "Black communities through the arts, towards better Black futures," according to its website. They accept donations and also have merchandise for sale.
20. Black Girls Code
This nonprofit organization offers workshops, programs and other access to Black girls interested in learning about computer programming. They accept donations and also have a signup for volunteers.