Entertainment
Nxivm cult: Actress Allison Mack sentenced to three years in prison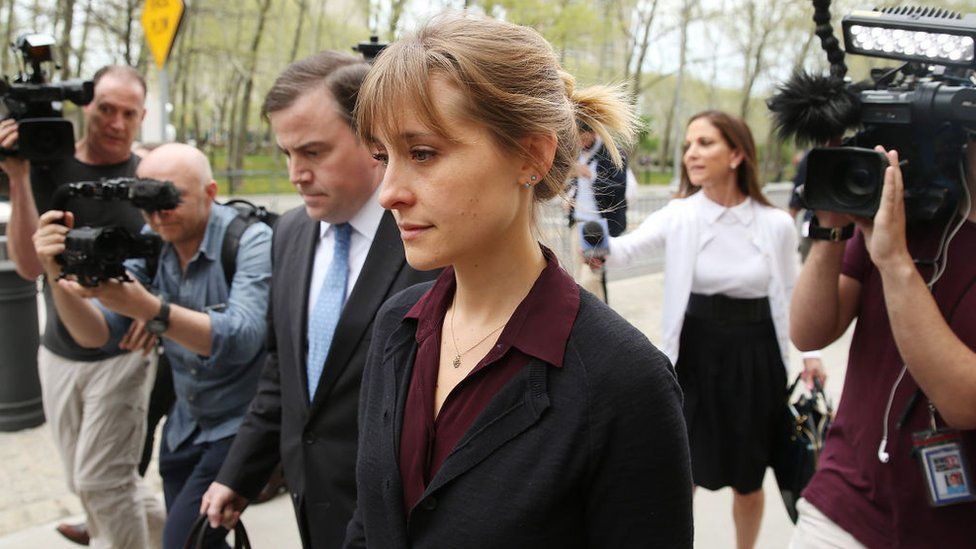 US actress Allison Mack has been sentenced to three years in prison for her role in the Nxivm sex cult.
The 38-year-old admitted racketeering and conspiracy charges in April 2019 related to her efforts to recruit women.
Last year, cult leader Keith Raniere was handed 120 years in prison for multiple crimes, including forcing women to be his sexual "slaves".
In a letter before sentencing, Mack begged forgiveness from her victims.
The letter addressed to "those who have been harmed by my actions" was filed to the court by her lawyers, who requested that she face no prison time for her crimes.
"I threw myself into the teachings of Keith Raniere with everything I had," she wrote.
"I believed, whole-heartedly, that his mentorship was leading me to a better, more enlightened version of myself… This was the biggest mistake and regret of my life," Mack continued.
"I am sorry to those of you that I brought into Nxivm. I am sorry I ever exposed you to the nefarious and emotionally abusive schemes of a twisted man," she added.
Mack, best known for her role on US television series Smallville, fled to Mexico with the group's leader as authorities began closing in on them in 2018.
Since her arrest she has been living in her California family home while taking university courses and working in catering, her lawyers say.
What is Nxivm?
Nxivm, pronounced "nexium", is a group that started in 1998 as a self-help programme and says it has worked with more than 16,000 people including the son of a former Mexican president and Hollywood actresses such as Mack.
Despite its tagline of "working to build a better world", its leader Keith Raniere was found guilty of overseeing a "slave and master" system within the group.
How was Allison Mack involved?
Raniere was at the top of this structure and the only man, but Mack served as one of his top female deputies.
Female recruits were allegedly branded with Raniere's initials and expected to have sex with him, as part of the system.
As part of her effort to co-operate with investigators, Mack provided them with an audio recording of Raniere discussing one branding ritual.
In an ABC News interview on Wednesday, one of Mack's victims said she served Raniere as "the most charismatic co-leader anyone could ask for".
"She [Mack] dehumanised people. She was inhumane," said India Oxenberg.