Lifestyle
Meghan McCain Leaves ABC's "The View" As Daily TV's Favorite Villain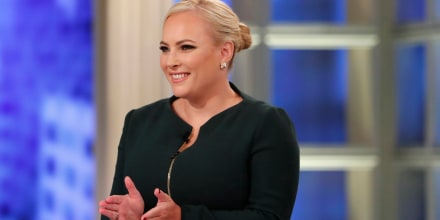 It's the end of yet another era at "The View" as Meghan McCain announced her imminent departure after a tumultuous four years on the program. (She'll stay through the end of the season in July.) McCain was a lightning rod, a person people who didn't even watch "The View" loved to hate. But she was also a necessary part of the formula for the long-running series, which has been one of the few female-driven shows to take on politics. And for those already celebrating her expert, brace yourselves: Whoever producers hire to be McCain's replacement may end up making viewers wish she'd come back.
Launched nearly a quarter century ago in 1997 by the esteemed journalist Barbara Walters, "The View" was controversial from the start. Walters, along with the original cast of Meredith Vieira, Star Jones, Debbie Matenopoulos, and Joy Behar, were a group of women unafraid to have educated (and sometimes less educated) opinions in public — and argue about them. The freewheeling format was a massive hit, garnering dozens of Emmys, high ratings, and the reputation for being a must watch both inside and outside the Beltway.
Since then, the cast has included a wide variety of alternates, from Lisa Ling to Rosie O'Donnell. But like most mainstream roundtable political shows, both liberal and conservative viewpoints had to be represented. What those viewpoints look and sound like has fluctuated depending on the cast. Behar, for example, brings the traditional "New York liberal" schtick, while former host Elizabeth Hasselbeck spent a decade spouting the "compassionate conservatism" of the Bush era. When there is not an effective conservative to play against its more liberal co-hosts, the show's popularity, and influence on popular culture, has immediately faded.