Politics
House GOP Leader McCarthy says he won't cooperate with Jan. 6 committee
The panel had asked Rep. Kevin McCarthy to voluntarily provide information about his communications with the White House surrounding the Capitol attack.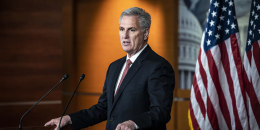 WASHINGTON — House Minority Leader Kevin McCarthy, R-Calif., said Wednesday that he will not provide information to the Jan. 6 committee on communications related to the attack on Capitol Hill, despite saying earlier that would be willing to discuss a phone conversation you had. with former President Donald Trump as the riots unfolded.
"As a representative and leader of the minority party, I have no regrets or satisfaction in choosing not to participate in this select committee's abuse of power that tarnishes this institution today and will damage it in the future," McCarthy said.
His statement came just hours after committee chairman Bennie Thompson, D-Miss., proposed an early February meeting with McCarthy.
Thompson, in a letter to McCarthy, said the panel wanted to hear conversations the House Republican leader may have had with Trump and White House staff in the days surrounding the unrest.
McCarthy told Fox News in April that he had a phone conversation with Trump as the attack unfolded. A month later, when asked by reporters if he would be willing to testify before an outside committee about his Jan. 6 conversation with Trump, McCarthy replied: "Sure."
In Wednesday's letter, Thompson said McCarthy may have information about Trump's mood and decisions in the aftermath of the riots.
"It appears that he may also have discussed with President Trump the possibility of him facing censure, impeachment, or impeachment under the 25th Amendment," Thompson wrote. "It also appears that he may have identified other possible options, including President Trump's immediate resignation from office for him."
Trump was impeached for "inciting insurrection" in a vote of 232-197, with 10 Republicans joining Democrats. He was acquitted in a 57-43 vote in the Senate, with seven Republican senators voting for conviction.
The Jan. 6 committee asked two other lawmakers, Rep. Jim Jordan of Ohio and Rep. Scott Perry of Pennsylvania, for information, but McCarthy is the highest-ranking Republican in Congress sought by the panel.
Thompson, speaking to reporters Wednesday afternoon, did not rule out a possible subpoena for McCarthy.
"I think it's important that when the leader of the House of Representatives takes the floor and criticizes the sitting president for what happened, that's significant, and that's why we voluntarily asked him to come and speak to the committee," he said. Thompson.
McCarthy said in a speech in the House of Representatives days after January 6 that Trump "bears responsibility" for the "attack on Congress by mob rioters."
Asked Wednesday night about McCarthy's refusal to comply with the committee's request, Rep. Liz Cheney, R-Wyoming, the panel's vice chair, told reporters that committee members would "evaluate our options, but We'll get to the truth." ."
"I wish he was a brave and honorable man," Cheney added. "He is clearly trying to cover up what happened. He has an obligation to come forward and we will get to the truth."
Earlier on Wednesday, panel members met with former White House press secretary Kayleigh McEnany.
McEnany, who was subpoenaed in November, met with the committee virtually, according to a source familiar with the meeting. Her deposition was originally scheduled for December 3, but she was postponed. It was not immediately clear what McEnany discussed with the committee.
CNN first reported the meeting.
The committee outlined its area of ​​interest with McEnany in a November letter to the former press secretary. The panel said at the time that her investigation and public accounts "revealed credible evidence of her involvement in the events within the scope of the Select Committee's investigation."
The letter pointed to public statements by McEnany while she was the White House press secretary, citing a press conference following the 2020 election.
"You asserted that there were 'very real claims' of fraud being dogged by the former president's re-election campaign, and said that mail-in voting was one that 'we have identified as being particularly prone to fraud,'" the committee wrote. .