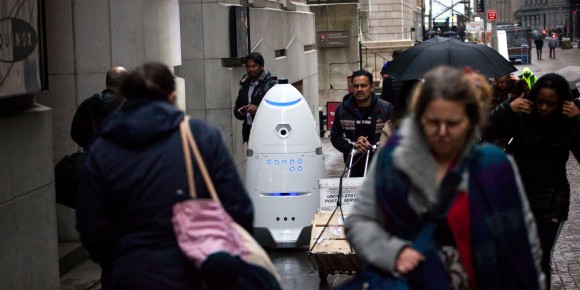 When the Westland Real Estate Group bought Liberty Village, a sprawling 1,000-unit apartment complex on the northeastern edge of Las Vegas nearly two years ago, the police department identified it as one of the city's most frequent sources of 911 calls.
"There was a little bit of everything," said Dena Lerner, a spokeswoman for Westland. "A lot of gang activity that revolved around controlled substances, prostitution, dog rings. We had issues with gun rings, drive-by shootings, robberies, assaults — we're talking everything."
So earlier this year, Westland introduced a broader program to reduce crime and added an "autonomous security robot" manufactured by Knightscope, a Silicon Valley company to make the complex safer. Each robot is given a nickname, and the one roaming around Liberty Village is called "Westy."
This model, K5, is a conical, bulky, artificial intelligence-powered robot that stands just over 5 feet tall. Westy slowly roams around at about a human walking speed, with four internal cameras capturing a constant 360-degree view. It also can scan and record license plates and unique digital identifiers that every cellphone broadcasts, known as MAC addresses.
But it's unclear how much Westy has reduced crime at Liberty Village. Knightscope, which is eagerly trying to recruit new clients, told local news outlets that Westy had resulted in a "significant drop in 911 calls," underscoring "yet another crime-fighting win." Knightscope included articles about Westy as part of its recent pitch to individual investors and in its plans to take the company public.
Officer Aden Ocampo-Gomez, a spokesman for the Las Vegas Metropolitan Police Department, said that while the complex is no longer in the agency's top 10 list for most frequent 911 calls in the northeastern part of the Las Vegas Valley, he doesn't think all the credit should go to Westy.
"I cannot say it was due to the robot," he said.
As more government agencies and private sector companies resort to robots to help fight crime, the verdict is out about how effective they are in actually reducing it. Knightscope, which experts say is the dominant player in this market, has cited little public evidence that its robots have reduced crime as the company deploys them everywhere from a Georgia shopping mall to an Arizona development to a Nevada casino. Knightscope's clients also don't know how much these security robots help.
"Are we seeing dramatic changes since we deployed the robot in January?" Lerner, the Westland spokesperson said. "No. But I do believe it is a great tool to keep a community as large as this, to keep it safer, to keep it controlled."
For its part, Knightscope maintains on its website that the robots "predict and prevent crime," without much evidence that they do so. Experts say this is a bold claim.
"It would be difficult to introduce a single thing and it causes crime to go down," said Ryan Calo, a law professor at the University of Washington, comparing the Knightscope robots to a "roving scarecrow."
Additionally, the company does not provide specific, detailed examples of crimes that have been thwarted due to the robots.
"I definitely say that we are making a difference," said Stacy Stephens, Knightscope's co-founder and executive vice president. "You don't know what might have happened compared to deploying a security guard out there."
Newtown Roots
The company's CEO, William Li, founded Knightscope after trying to come up with a response to the December 2012 mass shooting at Sandy Hook Elementary School in Connecticut that left 20 young children dead.
"That infuriated me," Li, a former Ford executive, told USA Today in January 2014.
The company came up with a robot that would "predict and prevent crime in your community," according to an archived version of its website.
"There are 7 billion people on the planet, and we'll soon have a few billion more, and law enforcement is not going to scale at the same rate; we literally can't afford it," Li said.
Since then Knightscope robots have become the crime-fighting friend of corporate clients in various cities nationwide, including Honolulu, Washington, D.C. and a community college in Tucson, Arizona.
Typically, a casino, residential facility, bank or, in one case, a police department, rents a robot for an average fee of around $70,000 to $80,000 per year. Part of that cost involves Knightscope storing all of the data that robots like Westy gather in a year. This huge volume of data is the equivalent of more than the combined storage of 175 iPhones, each with the maximum storage capacity of 512 gigabytes.
According to Knightscope's most recent annual report, the company has a current fleet of 52 machines used across 23 clients, with a backlog of 27 more robots to deliver. Each robot has an expected life span of "three to four and a half years."
But the finances behind the police robot business is a difficult one. Last year, Knightscope lost more money than ever, with a $19.3 million net loss, nearly double from 2019. While some clients are buying more robots, the company's overall number of clients fell to 23, from 30, in the past four years. Plus, the number of robots leased has plateaued at 52 from the end of 2018 through the end of last year. The pandemic certainly didn't help things.
Just two months ago, Knightscope told investors that there was "substantial doubt regarding our ability to continue" given the company's "accumulated deficit," or debt, of over $69 million as of the end of 2020. Its operating expenses jumped by more than 50 percent, including a small increase on research, and a doubling of the company's marketing budget. Knightscope itself recently told investors that absent additional fundraising efforts, it will "not be solvent after the third quarter of 2022."
Stephens, Knightscope's co-founder, said that the company's client retention rate is 85 percent, and that the company has clients that have renewed for four years.
"I can't comment on future rounds of funding. But we have been through seven rounds of funding to date," he said. "We've been able to advance the technology each time, and we have been able to grow the revenue side each time as well."
Limited supervision
Knightscope's best-known deployment is in Huntington Park, California, a small city south of downtown Los Angeles. The Huntington Park Police Department was the first law enforcement agency to partner directly with Knightscope. For two years, a single Knightscope robot, dubbed "HP RoboCop," has roamed part of the city's Salt Lake Park. The robot captures constant video of park activity, and has the ability to broadcast back to police live, although the Huntington Park Police Department does not use this feature often.