Technology
What's next for the NHS Covid-19 contact tracing app?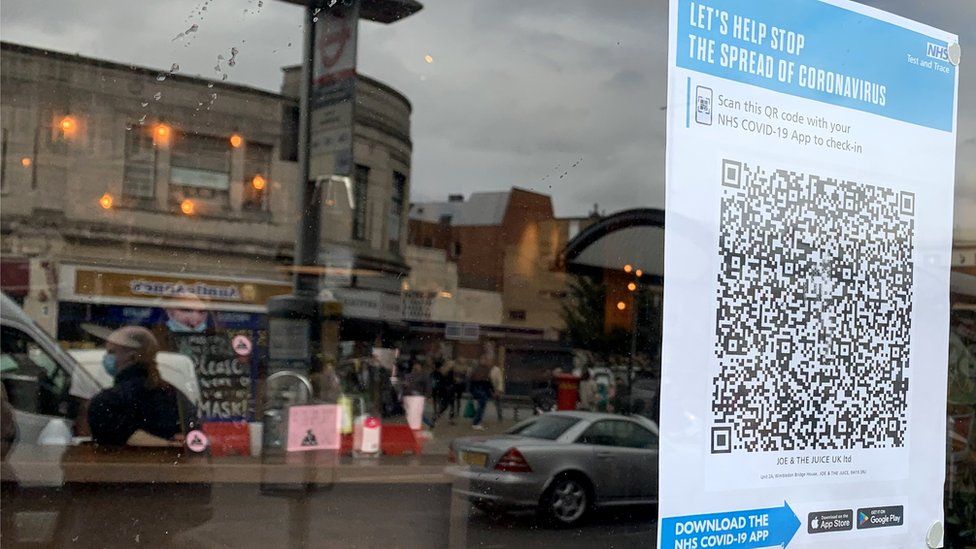 There's doubt over the future of the NHS Covid-19 contact tracing app for England and Wales, as the government prepares to relax restrictions in England on 19 July.
But one advisor says the app has proved effective and urged the government not to drop it.
A QR code scanner allowing people to check in has been a key feature of the NHS Covid-19 app.
In recent days there have been complaints from many businesses that the app is sending out far too many alerts, causing disruption as employees are sent home.
'Nuisance for a reason'
"It can be a nuisance, but it's a nuisance for a reason," says Surrey University's Professor Alan Woodward, who advised the government last summer to switch to a more privacy-focused app. An early version trialled on the Isle of Wight proved unreliable.
But Professor Woodward says research from the Alan Turing Institute has shown that the current app, launched in England and Wales last September, has done a good job.
"Something of the order of half a million to 600,000 cases were averted, as a result of using this app. So that has to be worth it," he said.
Latest figures from the Department of Health show that there have been 25.8 million downloads of the app since its launch, though it is not clear how many people are still using it.
In England and Wales more than 1m positive test results have been entered into the NHS Covid-19 app.
They have triggered over 2.5 million contact tracing alerts telling people to go into isolation. That number has soared in recent weeks as case numbers have risen.
In mid-April under 6,000 alerts were being triggered each week, by late June that number had soared to around 220,000.
This has caused consternation amongst many businesses, particularly in the hospitality sector.
Tim Foster, whose Yummy Pub chain owns three London pubs and one near Gatwick Airport, says his business has been thrown into disarray, as staff are sent into isolation by alerts from the app.
"Some have been pinged for five days of isolation, some seven, some 10. It is really sporadic, and I think it's just going to continue building as we see these cases doubling every week," he said.
He says the same problem is affecting his suppliers: "We've placed an order today for our beer delivery. We could potentially get a phone call on Wednesday lunchtime saying, 'your beer is not going to arrive today'."
Virus spread
But one of the scientists behind the development of the contact-tracing app urged the government not to pay too much attention to what he described as "heavy lobbying" over the weekend from the hospitality industry.
The man, who did not want to be named, said it would not be in the long-term interests of the industry to tell staff to ignore alerts from the app.
"If all of the young staff are infected that's going to be no good for the hospitality industry, the virus is spreading exponentially," he said.
"And there's a point in our future where the absenteeism will be because of people being sick, and a small, but appreciable number being very sick."
But the scientist did agree that sending alerts telling people who had already been fully vaccinated to go into isolation might not be sensible. He said it might be better to urge them to take a series of Covid tests but keep on working.