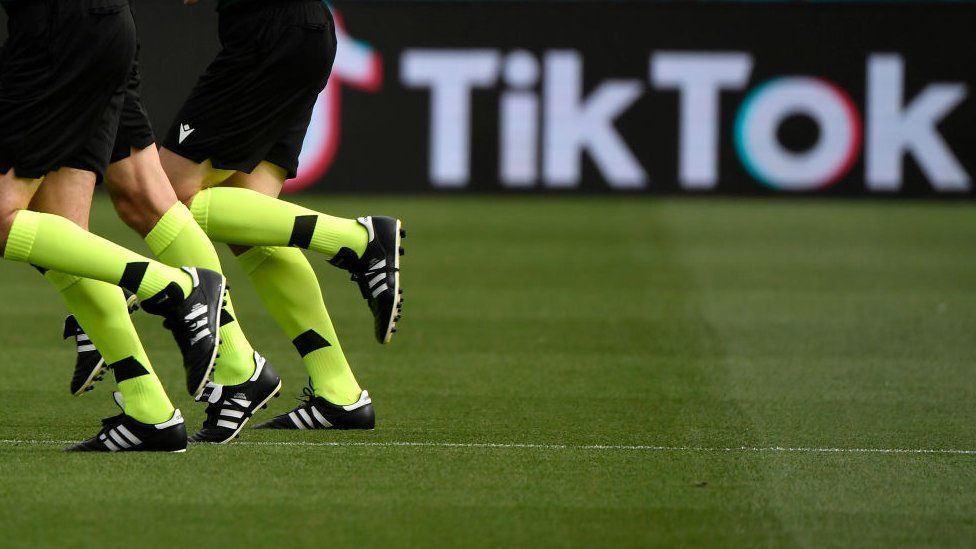 Everybody's eyes were on the ball during the tense England v Germany Euro 2020 football match this week – mine included.
But almost every time I saw a sponsored brand on the digital billboards that run the circumference of the pitch at Wembley, there appeared to be a Chinese super-brand logo on display.
During the last tournament, held in 2016, there was just one Chinese sponsor – the TV maker HiSense.
This time around, HiSense has been joined on the billboards by TikTok, Vivo and Alipay.
There are no sign of any US equivalents – neither Facebook, Google, Amazon nor Apple for example, feature on the official "partners" list.
Tournament organiser Uefa told the BBC it had "no specific strategy" regarding Chinese collaborations.
"However, we do look to engage a global audience, as do the brands who join our commercial programme," it added.
TikTok, which claims its global platform is kept separate from its Chinese operation, has partnered with UEFA for this tournament only and has thrown a tonne of promotional weight behind it on its platform, including branded augmented reality effects, TikTok lives and hashtag challenges.
Uefa even launched its own official tournament account for the occasion, followed by 4.2 million people.
Alipay, a Chinese payment platform, has brought along a subsidiary, Antchain, a blockchain firm. Both are part of the tech giant Ant Group.
A blockchain is a kind of digital ledger, which is stored on lots of individual computers, making it harder to alter or fake the records. It's most commonly used to keep track of virtual currency transactions but it can be used to store other information as well.
You can't use Alipay without Chinese ID in all countries. And yet last month, Antchain announced a five-year sponsorship deal with UEFA – Alipay already had its own independent eight-year deal in place.
Alipay is now providing a trophy for the top scorer of the games, with all the scores recorded on Antchain.
The official announcement from UEFA gushes that a hashtag symbol on the base of the trophy "underlines AntChain's commitment to ensuring a permanent, incorruptible record of the top scorer's achievements with blockchain technology".
Which is marketing speak for, well, not a lot really. So what is in it for these brands?
ShuShu Chen, lecturer in sport policy and management at the University of Birmingham, says that HiSense did report a rise in sales after its sponsorship of the 2016 tournament.
However, it is perhaps also no coincidence that China's President Xi Jinping is known to be a huge football fan, and with the tightening of both government scrutiny and regulation of the nation's tech giants, it could be seen as a smart PR move to be visibly supportive of the beautiful game.
Senior advertising analyst Matt Bailey from the firm Omdia agrees that they are "feeling the pressure" in their home market.
"Europe is becoming an increasingly important market for Chinese companies," he says, citing the "explosion" of TikTok in 2020.
In 2014, Mr Xi put the sport on the national school curriculum, and in 2016 the Chinese Super League (CSL) launched to great fanfare. It immediately set about making some very expensive signings of international players.
The biggest of those was Chelsea's Brazilian star Oscar, who now plays for Shanghai SIPG. He was signed for £60m, with a reported initial weekly salary of £400,000.
But despite all the flashing of cash, there are signs those pockets are no longer quite so deep. In December 2020, the CSL announced that it was introducing a salary cap for its players – in order to "curb money football", it said at the time.
In any case, Chinese football fans have long looked to the west to get their fix. England's Arsenal FC is reported to have 200 million supporters in China – about three times the entire population of the UK.
And they are also watching these games – the BBC's media analyst Kerry Allen says there there have been more than five million posts on Chinese microblogging site Weibo which feature the hashtag Euros.
"Many of China's financial outlets have written glowing reports on Chinese companies accounting for a third of the official sponsors of the Euros," she says.
"It's been welcome for Chinese viewers to see, given how popular football is in the country."
Despite the nation's enthusiasm, China's own national football team ranks 75th in the world, and it last competed in the FIFA World Cup nearly 20 years ago, in 2002.
Is buying up advertising the closest the nation can get to football glory?
Quite possibly, says Joe de Kwant Stoner, MD of the marketing firm Big Orange Media in Tunbridge Wells, UK. But that's not the only goal.
"It's all about brand awareness," he says.
"There's no promotion that actually explains the products or services, it's purely about repeating the name. Even my eight-year-old repeats them now because he hears them in all the trailers."
He also says it's testament to the continuing power of TV advertising.
"There's been a huge uptick in online advertising and time spent online – out-of-home media advertising space has shrunk a lot in the last 15 months," he says.
"The Euros offers the opportunity to get to a real mass-market audience. People haven't been tuned into something like that for a long time."
Advertising vetaran Cindy Gallop, founder of Make Love Not Porn, who is half-Chinese, says there is another important underlying message at work.
"In a scenario where we need to stop Asian hate in every country, I think it's great to have Chinese brands become part of a familiar landscape to internationalise the language of football," she says.
"I was startled myself to see the Chinese ads – especially the ones in Chinese… but it makes absolute sense."