U.S. News
14 dead in a rampage in California, Muslim advocacy group names Syed Farook as a suspect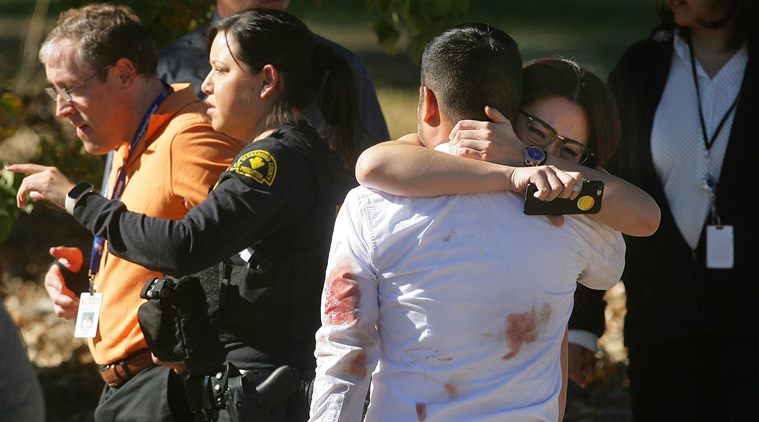 A man and woman suspected of participating in a shootout that killed 14 people and injured 17 in a Southern California welfare agency on Wednesday died hours later in a police shootout, authorities said.
A Muslim advocacy group said one of the suspects was Syed Farook and introduced a man as Farook's brother-in-law, who said he had no idea what might have motivated the attack. He said his relative was a US citizen.
The officers have not yet publicly identified any suspects.
The suspects fled the scene in San Bernardino, about 100 kilometers east of Los Angeles, and a few hours later two people died in a shootout when police confronted them in their getaway vehicle. One policeman was injured.
The rampage at a holiday party on the campus of a developmentally disabled agency was the deadliest U.S. gun violence since the December 2012 massacre at Sandy Hook Elementary School in Newtown, Connecticut, in which 27 people, including the shooter, were killed.
At a press conference convened by the Muslim advocacy council on American-Islamic Relations (CAIR), a man impersonating Farhan Khan said his sister was married to one of the suspects and offered condolences to the victims.
"Why should he do that? Why should he do something like that? I have absolutely no idea, I am in shock myself," Khan said at a press conference in Anaheim, California, south of Los Angeles.
Farook and his wife have been missing since Wednesday morning, said Hussam Ayloush, executive director of CAIR in the Los Angeles area.
A person named Syed Farook was listed on the county documents as an employee of the San Bernardino County's Department of Environment and Health. Employees of this department had gathered on Wednesday for the party at which the shooters opened fire.
The massacre differed from most other recent rampages in the United States in key ways, including the involvement of multiple people rather than a single perpetrator. It also comes less than three weeks after the deadly Paris attacks resulted in tightened security in many public places across the United States.
Authorities said they had also arrested a person who was seen running away from the vehicle, but investigators were not immediately sure if that person was involved in the case, Police Chief Jarrod Burguan told a news conference.
Burguan said the two suspects killed were armed with assault rifles and handguns and wore "assault-style" clothing.
The police chief said he did not know of any possible motive for the attack.
David Bowdich, an FBI deputy regional director, said authorities had not yet ruled out that the shooting was an act of terrorism.
"It's a possibility, but we don't know," he told reporters. "It is possible that it will take this route. It is possible that this is not the case. "
Burguan previously said, "Obviously we have at least one domestic terrorist situation here."
The attack took place on the campus of the Inland Regional Center in a building that housed a conference center that was used for the holiday celebrations, authorities said.