U.S. News
Halyna Hutchins: Director of Photography Vigil in New Mexico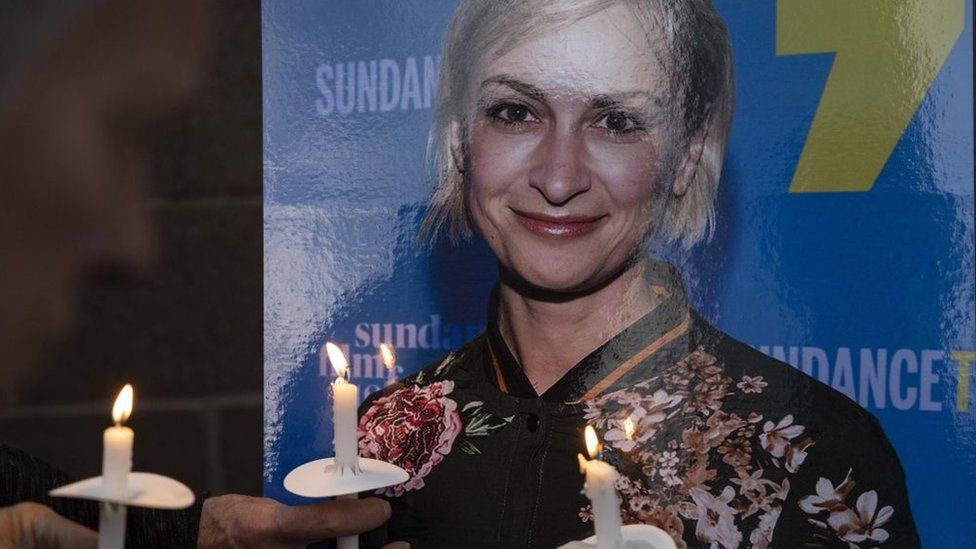 A vigil was held in New Mexico to mourn cinematographer Halyna Hutchins after she was fatally shot on an American film set.
Industry professionals were among those who attended the event in Albuquerque, lighting candles for the 42-year-old.
Hutchins was shot with a prop pistol by actor Alec Baldwin on the set of the western film Rust on Thursday. Baldwin had been told the gun was safe.
The incident has raised concerns for security on film sets.
"She was so dynamic and when something like this happens, it's devastating for all of us," Sandie Kay, an Albuquerque film worker, told Reuters news agency at Saturday's vigil.
"To work with somebody that is that collaborative and never though of herself as better than anyone on that set, I would have been lucky to have ever done another move with another person like that or her, and now I don't get to and it sucks," Lane added.
Others at the vigil included actors Jon Hamm and John Slattery, who are currently filming nearby.
Some people were seen holding signs that called for increased safety measures on film sets.
"I think that it's definitely a stark reminder for gun safety on set, and I am with the idea of banning real guns from set if that is possible," film worker Cheryl Lowe told Reuters.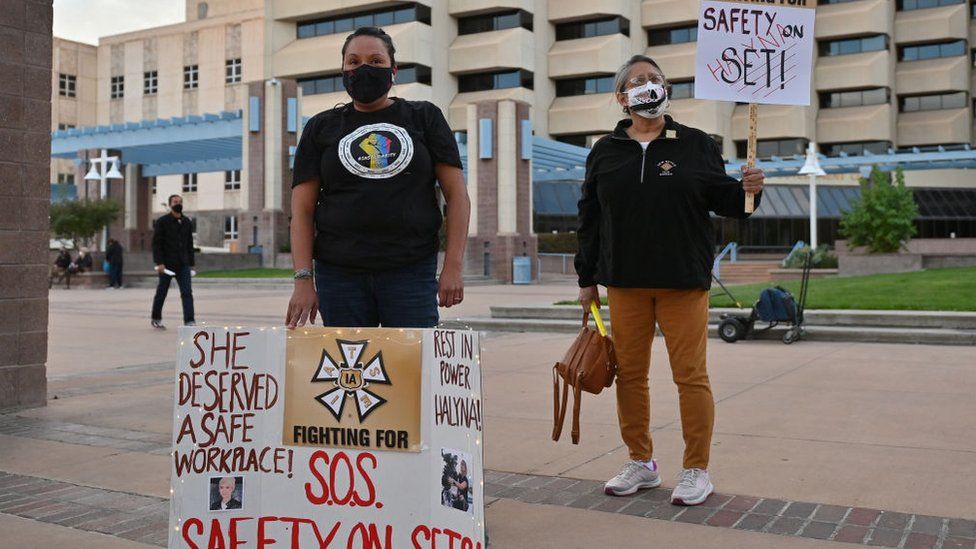 According to court records, assistant director Dave Halls did not know the prop gun contained live ammunition and indicated it was unloaded by shouting "cold gun!".
Director Joel Souza, who was standing behind Hutchins, was wounded in the incident.
Crew members said that the discharges were inside a cabin that was being used as a set location. These crew members were part of a group that quit hours before the incident took place over complaints about working conditions and unpaid work.
The film's producers said in a statement on Friday that they had not been told about the safety issues but said it will be "conducting an internal view of our procedures while production is shut down".
Such incidents on film sets are extremely rare.
Real firearms are often used in filming, and are loaded with blanks – cartridges that create a flash and a bang without discharging a projectile.
In 1993, Brandon Lee – the 28-year-old son of the late martial arts star Bruce Lee – died on set after being accidentally shot with a prop gun while filming a death scene for the film The Crow.