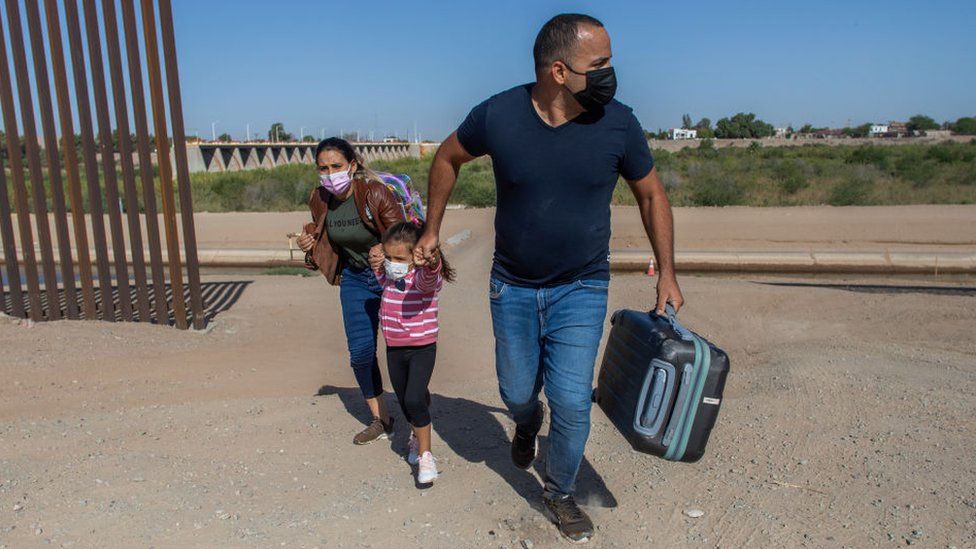 President Joe Biden's immigration policies are being heavily criticised by Republicans, as large numbers of undocumented migrants cross the US-Mexico border.
Former president Donald Trump says migrants are coming over the border "like this country has never seen".
The number of migrants intercepted at the border had been steadily rising since April 2020, but since President Biden took charge in January there has been a sharp increase.
In May, the latest month with published data, US Customs and Border Protection (CBP) recorded its highest monthly total in more than 20 years of just over 180,000 migrants, mostly single adults.
The head of homeland security in the US, Alejandro Mayorkas, said in March: "This is not new. We have experienced migration surges before – in 2019, 2014, and before then as well."
During the Trump administration, migrant encounters hit a monthly high of more than 144,000 in May 2019.
There has also been an increase in the number of children crossing the border since President Biden took office.
March saw more than 19,000 minors encountered there, compared to about 12,000 at the same point in 2019.
During the Trump administration, the 2019 financial year (running from October 2018 to September 2019) saw more than 800,000 migrants apprehended at the border – the most since 2007.
But the 2021 financial year has already passed the 2019 total, even though it still has four months to run.
There were years in the early 2000s when more than one million migrants were intercepted crossing the US-Mexico border, with a peak of more than 1.6 million in 2000.