World
Companies are under increasing pressure to expose their climate change risks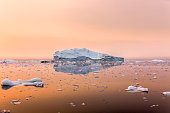 How do you know if climate change is a significant financial risk for a company or your investments? Right now, Wall Street's top regulator isn't offering much help. This is because there are no set rules for what companies are required to disclose to the Securities and Exchange Commission about their potential economic exposure to global warming.
In order to fill this void, the SEC asked for feedback this spring on what such requirements should entail. The regulator targets thousands of comments from businesses, lobbyists, legal experts, banks, investors and others.
"The current state of climate change detection does not meet our needs," wrote a $ 2.7 trillion group led by the California State Teachers Retirement System (CalSTRS), various government funds, treasurers, and nonprofits to address their needs to describe. Among other things, they want companies to disclose greenhouse gas emissions in such a way that companies can easily be compared.
Many companies said they support the idea of ​​an SEC rule on climate change information, with a group led by Bank of America and Dell Technologies calling the current reporting "complex and fragmented."
Other parties, such as the Investment Company Institute (ICI) lobby group, noted that the SEC itself found that the growth of environmental, social, and governance (ESG) investments has increased costs for companies that have increased deal with the problems of individual investors with regard to climate impact answer. change in their business. A government disclosure standard can help reduce these costs.
What should companies publish – and when?
Google parent Alphabet, Amazon, eBay, Facebook, Intel and other companies said in a joint letter that unlike quarterly and annual reports, climate projections are not as specific or predictable as what is put in a spreadsheet.
"Because climate information is based on estimates and assumptions that create inherent uncertainty, it is important not to expose businesses to unnecessary responsibility, including individuals," they wrote.
In addition to carbon emissions, investors also need details about how and where companies get their supplies, water sources and energy they use, and even where buildings and offices are, says Madison Condon, a law professor at Boston University studying changes and climate Financial regulation. . .
"This is the type of information needed to assess climate risk, but not the type of information currently disclosed in financial statements," she told the SEC in a letter about possible disclosure rules.
It's also about how often companies should disclose their climate risks. The national manufacturer association argues, for example, that climate information should be "at most" annually in order to give companies time to compile information according to other legal requirements. It also argued that the SEC should take steps to limit liability to public companies.
The CalSTRS-led investor group aims to publish corporate climate risk more frequently, including quarterly, annual and other periodic financial reports.
Many companies already disclose certain climate risks through company-published reports and groups that collect such information. According to the Center for Climate and Energy Solutions, around 80% of the companies listed in the S&P 500 share index have certain carbon dioxide emissions.
Increasing pressure from investors
One non-profit group that compiles climate information is the CDP, formerly known as the Carbon Disclosure Project. CDP urges companies to publish metrics for greenhouse gases, water and forestry to explain how they plan to adapt to a warming planet and low carbon economy.
CDP's data and classification system is used by nearly 3,000 publicly traded companies worldwide, including 572 in the United States, the company said in its comments to the SEC. And, according to the group, more than 9,600 companies worldwide disclose certain information about CDP.
CDP, which has been collecting such information for two decades, ranks companies A through F based on what information they provide for their database or whether they provide information at all. The idea is to be able to compare information from different companies and evaluate their disclosure.