World
Cyprus: Nations send help to tackle worst wildfire in decades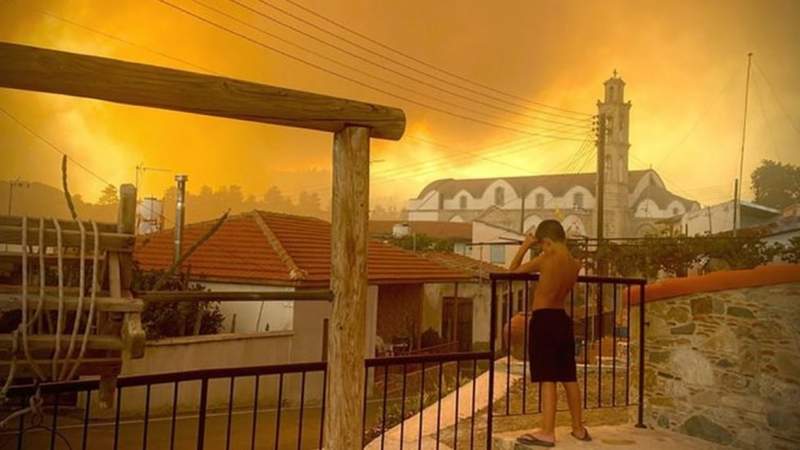 Several nations have answered Cyprus's appeal to help tackle a huge wildfire, described by officials as the worst in the country's history.
The UK, Greece, Italy and Israel are among those helping, including with firefighting aircraft.
Cyprus said missions to drop water had helped to reduce fire outbreaks, but warned that blazes could resurge.
On Sunday, four people were confirmed to have died in the fires, which have been fanned by strong winds.
The blaze has spread through the southern Limassol district and forced the evacuation of several villages.
More than 20 sq m (50 sq km) of forest and farmland have been destroyed, along with power lines.
Firefighters are racing to prevent the wildfire from spreading to the Machairas National Forest Park.
"It is the worst forest fire in the history of Cyprus," Director of the Department of Forests Charalambos Alexandrou told local television.
The European Commission's head of crisis management, Janez Lenarcic, said on Saturday that a co-ordinated response was under way. The EU's emergency Copernicus satellite is tracking the blaze, the commission said.
Several aircraft are already tackling the flames, assisted by British troops stationed on the island.
The British Royal Air Force, which has a base at Akrotiri near Limassol, tweeted images of two helicopters taking part in the operations.
"We stand shoulder to shoulder with the Republic of Cyprus as we work together to overcome this tragedy," said the commander of British Forces Cyprus, Maj Gen Rob Thomson.
On Sunday, Cyprus's Interior Minister Nicos Mouris confirmed that all four people who died in the fires were Egyptian farm workers.
Their bodies were found about 600m from their burnt-out vehicle near the village of Odos. A local policeman told AFP news agency that it appears they fled the vehicle and became trapped among the flames.
President Nicos Anastasiades described the fire – in the foothills of the Troodos Mountains – as "a tragedy".
In a tweet, he said it was "the largest fire since 1974" – referring to the year Cyprus was divided following a Turkish invasion – and had caused loss of life.
He pledged that the government would "provide immediate assistance to the victims" and their families.
Mr Anastasiades visited a relief centre in the village of Vavatsinia on Sunday morning, before travelling on to other affected areas.
Meanwhile, police have arrested a 67-year-old man on suspicion of arson. A witness saw a man driving away from the village of Arakapas, north-east of Limassol, at the same time the fire started on Saturday, police said.
Cyprus has been experiencing a week-long heatwave, with temperatures reaching up to 40C (104F).