World
Discarded tents to be sent to refugee women.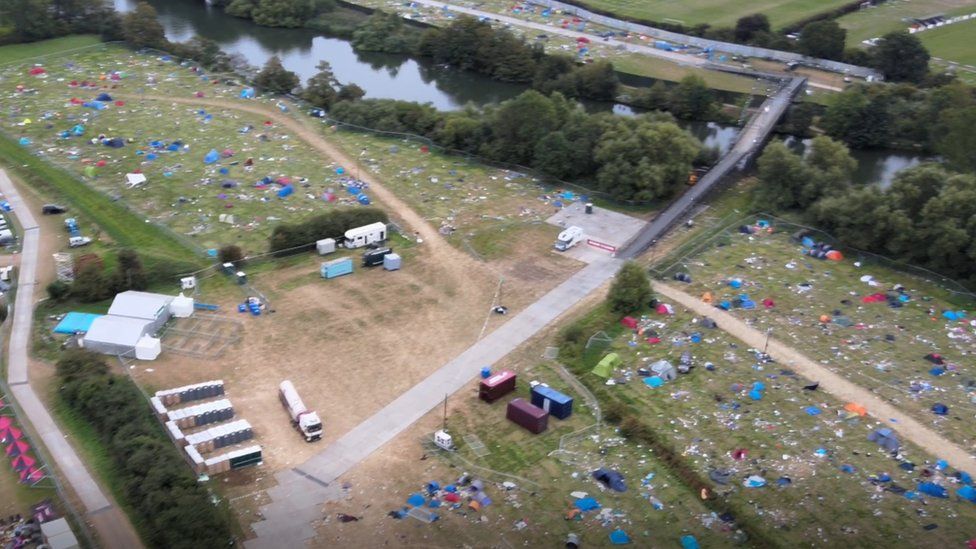 Camping equipment discarded by people at a music festival is set to be distributed to refugees in France.
Herts For Refugees has collected 2,300 tents and 500 sleeping bags from Little John's Farm, the site used to host the Reading Festival last weekend.
The charity said the items would be "life-saving" for refugees living at French ports in Dunkirk and Calais.
Photos and videos of abandoned tents at the site had prompted criticism of some festival-goers on social media.
A two-week clear-up operation began on Monday, with festival organisers allowing a number of charities to salvage equipment and food left behind.
Angus Clark, CEO of Herts For Refugees, said the tents were needed in northern France after the so-called "Jungle" camp for refugees was cleared in 2016.
"In winter time it can be quite desperate, so the things we salvage from festivals like Reading can actually be life-saving," he said.
He added, however, that although he welcomed the opportunity to give the tents to those in need, it would have been more sustainable for festival-goers to take their equipment home.
"The bigger picture environmentally has to be considered… we can only take such a small amount compared to what's left behind," he said.
On its website, Reading Festival urged revellers to take their belongings home and warned that tents usually ended up in landfill "because it is impossible to recycle or reuse them".
Lily Robbins, the festival's sustainability manager, told BBC Breakfast on Monday that it was "heartbreaking" to see so many tents left.
Many social media users agreed, with some suggesting potential solutions for future years.
On Facebook, one woman said: "They need to charge £50 to £100 per tent, redeemable when the tent is brought off site."
Another said the festival's licence should be withheld until organisers could come up with "concrete plans on how to tackle this."
Reading Festival has been approached for comment.