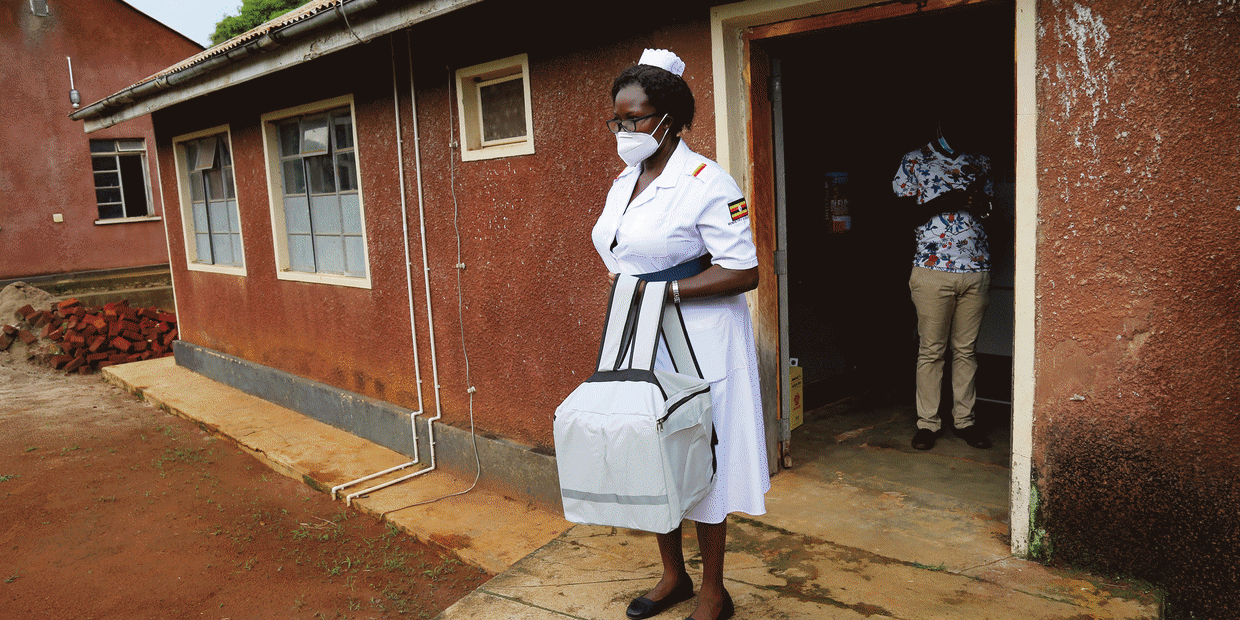 NAMATALE, Uganda — Dr. Eva Kabwongera's job is to make sure life-saving Covid-19 vaccines reach Uganda's 45 million people. On a recent morning, that journey took her to a tiny island that is home to less than 2,000 people.
The 40 doses Kabwongera brought with her to Namatale had traveled more than 3,000 miles via plane, truck, ferry and boat from Pune, India, to get to the outcrop in Africa's vast Lake Victoria.
"We are delivering hope," said Kabwongera, who is UNICEF's immunization chief for Uganda, as she stepped into shallow water and walked to shore soaking wet. Dozens of small, smiling children greeted her.
"The people there are waiting for it," she added.
But hope does not defeat a pandemic — vaccines do. And Uganda doesn't have enough to vaccinate even a tiny portion of its population. With the severe international shortage, Uganda and countries like it look set to have to wait to inoculate even its front-line health workers and most vulnerable groups to help stop Covid-19 and prevent the development of dangerous vaccine-resistant variants.
The result has been an extreme gap in vaccine distribution, with almost 1 in 4 people receiving a vaccine in high-income countries and a staggering 1 in more than 500 in low-income ones, according to the World Health Organization. Uganda, for example, has so far received only 864,000 vaccine doses — enough to fully vaccinate 400,000 people with two doses, or less than 1 percent of the country's 45 million population.
It wasn't supposed to be like this.
One year ago as Covid-19 marched across the globe, claiming lives and upending economies, the WHO and global vaccine charities kick-started a global initiative called COVAX. It's the largest vaccine procurement in history, meant to guarantee equitable access to Covid-19 vaccines around the world.
Today, developing countries like Uganda have been left behind in the vaccination race. In fact, they've barely started.
Of more than 1 billion Covid-19 vaccine doses administered globally so far, 82 percent have been in high or upper middle-income countries, while just 0.3 percent have been administered in low-income countries, the WHO chief, Tedros Adhanom Ghebreyesus, said on April 29.
Even with rich countries buying up most of the global supply, COVAX had been hoping to put 2 billion shots in arms by the year's end. Many experts have always said this goal was far too optimistic, but COVAX is already way behind. That's partly because of export controls imposed by India, where almost all of COVAX's vaccines are made, as the country keeps doses made on its soil to deal with its own crisis.
"That is painful, very painful," Uganda's health minister Dr. Jane Ruth Aceng told NBC News as she sat outside her office in Kampala, Uganda's bustling capital.
"This pandemic has affected the entire globe," Aceng said. "We have to hold hands together if we are going to win this war."
The country is set to receive 3 million vaccine doses from COVAX through May — a fraction of what is needed to stop the virus with herd immunity — but with global supply constraints growing, even that could be in danger, Aceng, 52, said.
"We are not getting vaccines as quickly as we should," she added.
Since COVAX began its global rollout in late February, more than 59 million doses have been delivered to 122 countries, according to data from UNICEF, which helps procure and distribute Covid-19 vaccines. That's just over one fifth of the 250 million doses it had wanted to deliver by the end of May.
And despite vaccine manufacturers trying to scale up and optimize their production, the global supply of Covid-19 vaccines is still far from matching the demand. Current models predict that there will not be enough vaccines to cover the world's population until as late as 2024, according to research by Duke University.
Epidemiologists have cautioned that low levels of vaccinations in developing countries, like Uganda, could undermine vaccination efforts around the world and could prolong the pandemic, allowing the virus to spread and mutate. And even if richer countries reach some level of herd immunity, everyone will remain vulnerable as long as there are pockets of Covid-19 anywhere in the world.
The Biden administration has struck a far more internationalist tone than that of former President Donald Trump. It has pledged $4 billion toward COVAX — the most of any country — and said it will donate surplus shots abroad as part of its international fightback against the virus.
But Biden's focus has still been domestic, making sure Americans are not impacted by any global goodwill and only offering to give away its stockpile of 60 million Oxford University-AstraZeneca vaccines — which it wasn't using anyway.
'It feels good'
In Namatale, a wooden desk covered with green tablecloth sits in front of the island's health clinic — a hand-written sign reading "vaccination table" hanging from it. Registration forms, a hand sanitizer bottle and disposable gloves sit next to a gray cooler box with a blue UNICEF sticker — that's where the vaccines are.
Breeze blows from the lake and music plays from the loudspeakers in the background as the recipients, mostly health workers, get their shots one by one.
A clutch of curious children watch as Dr. Katende Jimmy rolls up his sleeve for the injections.
"It feels good," he said. "We want to do away with this pandemic."
He's one of the lucky ones; other health workers will have to wait for their vaccine.
The 52 islands that comprise the Buvuma Islands, of which Namatale is one, had received 1,070 doses when NBC News visited in late March. About 130,000 people live there, 200 of them health workers.
Kabwongera, who works round-the-clock managing UNICEF's immunization program in Uganda, said only 320 people across the islands have been vaccinated since NBC News left and as the country struggles to finance deliveries to remote locations.
With COVAX sending vaccines in small batches — instead of by the millions — going back to places as remote as Namatale to vaccinate new groups of people as doses trickle in is expensive, according to Kabwongera.
At the moment, she and her team have to go to each and every island to vaccine health workers alone.
Whenever the next shipment arrives from COVAX, she said, they will have to go back to Namatale and the other 51 remote Buvuma Islands on Lake Victoria to start targeting the next key group — teachers. That means more money is needed for fuel and other transportation costs.